Join the Presidio Yacht Club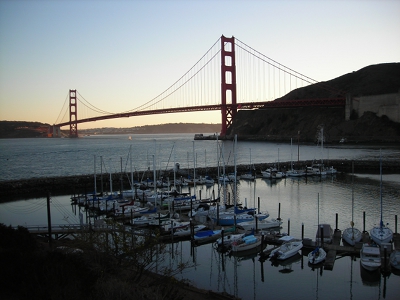 Though Presidio Yacht Club has over 150 members in its ranks, it has an extremely diverse membership. On the water and on the shore, you will find United States and foreign military serviceman, veteran and civilian members, students, and retired pilots among many others. They have all come together to share a common interest in boating.
Presidio Yacht Club isn't just limited to the military for membership. our doors are open to the public. Both sail and power boaters are welcomed, as well as their crew.
Member benefits include:
Monthly dinners and races
Organized cruise-outs
Club chandlery
Access to shower on site
Discounts at the Travis Marina bar
Reciprocal membership with other PICYA clubs
Steeply discounted lessons and rentals (military only)
Want to check us out? Come on down on the second Saturday of the month for our volunteer workday. You'll meet some members and contribute to the upkeep of the facilities. Club members who participate in the work day receive an additional discount on food and drink at the Travis Marina Bar.
If you are interested in applying for membership, first determine which category you will be applying under using the table below. Then download and fill out an application. The Presidio Yacht Club prefers applications to be received via mail.
For more information about membership, you can e-mail us at membership@presidioyachtclub.org or call Membership at (415) 457-7880.
| Category | Membership | Initiation Fee | Annual Fee |
| --- | --- | --- | --- |
| Active Duty (E-4 and below) | All active duty members of the Uniformed Services as defined in 10 USC 101.a.5: the United States Army, Air Force, Navy, Marine Corp, Coast Guard, Commissioned Corps of the National Oceanic and Atmospheric Administration, and Commissioned Corps of the Public Health Service, including the Active Guard Reserve (AGR). | Free | Free |
| Active Duty (E-5 and above) | Same as above. | Free | $60 |
| Veteran and Government | All honorable veterans of the Uniformed Services as defined in 10 USC 101.a.5 including serving Traditional (Part-time) Reservists and National Guardsmen, current members of the United States Coast Guard Auxiliary, and full-time employees of the United States Government. | $50 | $180 |
| Regular | All others. | $50 | $280 |
Regular, Veteran, and Government applicants require an endorsement by two members.



If you are applying under either the Active Duty or Federal Employee membership (see above), then you must provide proof of status with your application. Otherwise, you must have at least two endorsements from current members.

The Presidio Yacht Club is a member of the Pacific Inter-Club Yachting Association, and enjoys reciprocal membership benefits with other Bay Area yacht clubs.